Ishikawa AJET
Edit
Ishikawa AJET is a group of individuals among the JET community who are responsible for many activities not necessarily related to their day-to-day jobs as an ALT. AJET is the main organizer of many social, charity and sporting events for the whole of Ishikawa. Individuals participating in the committee must be committed, focused and organized to ensure that everyone can benefit from the work they do.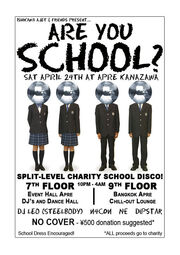 There are various main positions within the AJET committee, these are:
President: Duties include planning meetings with and overseeing the IshikawAJET committee (Entertainment, Sports, Charity, Regional Representatives), communicating with National AJET (through the NAJET Regional Representative) and other prefectural AJETs, as well as raising funds for and keeping track of the AJET budget.

Charity: This chair's job is to help create volunteer opportunities and to help raise money for various charities. This past year, we raised somewhere around 300,000 Yen for charity! Recently, Ishikawa ALTs have been heavily involved in work with local orphanages, as well as paragliding for a charity organization in Cambodia. Many other charity events, such as "80s for Haiti" and the "Are you sCOOL disco" have been extremely enjoyable and successful in raising money for charities.

Sports: The Sports Chair's job is to help organize our soccer teams and plan any other sports-related events/teams he or she deems worthy! This year we achieved great success in creating teams, and the Ishikawa Soccer team put on a brave display at the twice-annual soccer competition in Nagano. Past sporting events have also included baseball games and supporting our local basketball team.

Social: The Entertainment Chair is Ishikawa's main event planner. At the very least, a Welcome Event and a Good-Bye Event must be planned, but there are many other events that are planned. The entertainment chair works closely with the charity chair as many parties planned can easily incorporate fundraising.

3 Regional Representatives: (South, Central, North) Regional Representatives are in charge of helping plan events as well as promoting all AJET events to those living in their area. They also serve as assistants to the Chairs as needed.
Southern Region – Kaga, Komatsu, Nomi, Kawakita, Hakusan
Central Region – Nonoichi, Kanazawa, Uchinada, Tsubata, Kahoku
Northern Region – Houdatsushimizu…and up!
2016-2017 Ishikawa AJET Leaders
Edit
President: Emily McVey
Social: Magda Fuller
Communications: Ashley Hirasuna
Charity: Crystal Sandoval
Sports: Sabrina Gauthier
Northern: Emma Brophy
Central: Gail Johnson
Southern: Johnna Bratt
Events & Contact
Edit
Events and info can be found on the Ishikawa AJET Facebook page[1]. Feel free to send a message if you have any questions!
Cite error: <ref> tags exist, but no <references/> tag was found