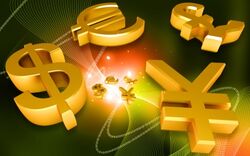 Different resources are available for managing your money while you're in Ishikawa. Much of your banking and money management can be done through ATMs. Internet banking is just now starting to take off! Talk to your bank branch about how to access your accounts online.
Bank or Post Office: Where to Put Your Hard-Earned YenEdit
For banking, some people swear by banks while others solely utilize the post office bank—Yūcho Bank (ゆ うちょ銀行). In bigger cities, there are more branch offices of a bank than post offices, while in other places the post office may be the only place to do your banking. In general, post offices offer slightly higher interest rates and offer a nation-wide banking system. Which service you use depends on your daily needs.
Banks in Japan offer little or no interest so most JETs send their extra money home or invest their money elsewhere. However Japanese bank accounts are handy for paying utilities, transferring money domestically and using the ATM (Automatic Teller Machine). Generally, banks are open Monday to Friday 9:00am to 3:00pm, and are closed on all public holidays and also over the New Year's holiday period.
Many banks in Japan are regional and do not have branches all over the country. However, you should be able to use your ATM card to withdrawal money from ATMs of other banks. These transactions will cost ¥100~¥300. Many JETs use Hokkoku (北國, the green bank), Hokuriku (北陸, the red bank) or Noto-Shin (のとしん, the carrot bank) to do their banking because they have a large number of branches within the prefecture. Shortly after arriving in Ishikawa, someone from your school or contracting organization should take you to set up a bank account so that you can be paid. Most likely you will not have a choice in which bank you may use as your contracting organization will choose the one through which they do most of its own banking (Most Ishikawa JETs use Hokkoku Bank [北國銀行]). However, you are free to open a separate account with another bank if you so wish.
Opening an AccountEdit
For banks, there are two types of accounts:
- Ordinary Deposit (futsū yokin, 普 通預金) - Withdrawals and desposits available at any time during bank hours.
- Fixed Term (tēki yokin, 定期預金) - Deposit term is fixed, no withdrawals or deposits until maturity. More interest than an Ordinary Deposit.
Interest (orisoku, お利息 (might be in your passbook as オリソク)) works a bit dfferently than you might expect, and rates seem to be pretty low for the most part.  For example, an Ordinary Deposit account at Hokkoku Bank computes interest daily, and deposits it twice a year, in March and September.  Rates seem to vary, but seem to be close to 0.002%.
Other kinds of accounts are available at different banks. Personal checks are not common in Japan and have high service charges.
To open a bank account you will need:
- Identification (Alien Registration Certificate, National Health Insurance Certificate or passport)
- Hanko (判子, also called inkan [印鑑]) - This is commonly used in place of a signature.
Bank TransfersEdit
Automatic Transfers, jidō furikomi, 自動振込
This is a hassle free way of taking care of many accounts. They are used to pay regular accounts such as telephone, rent, gas and electricity. To set them up, you need to complete a form from the company you wish to transfer the money to and hand it over to the staff at your bank. The forms are all in Japanese but ask your supervisor to help you. With some banks, each month you will receive notification, usually in the form of a postcard, of the amount of the transfer. With other banks, the transfer appears on your bank book. For most utility companies, there is no service charge for these transfers.
Request Transfers, furikomi, 振込
You do not need a bank account to use this. You simply take to the bank the information of the account to which you wish to transfer money (usually the account number and the name of its bank and the account's name and address), complete a form with the details and the bank does the rest. The transfers can be processed by mail or by telegraph (telegraph is faster but costs a bit more). There is a service charge of ¥100~¥800, depending on the bank, the amount deposited, or the time it takes to complete the transfer. From time to time you may need to use this kind of money transfer to pay for JET seminars. You will be provided with the details of the account you have to transfer the funds to, and most likely the school office will help you. There is an excellent description of how to do a furikomi on the Ishikawa Jets Forum: http://j-talk.com/forum/viewtopic.php?f=211&t=6479
International Transfers, kokusai sōkin, 国際送金
These allow you to transfer money to another country. The cost can be quite high and so few JETs use this method of transferring money. If you do try it, smaller branch offices will probably have to consult books on how to do it. For Hokkoku Bank, a mail transfer to the U.S. (futsū sōkin, 普通 送金) costs ¥2,500 while a telegraphic transfer (denshin sōkin, 電信送金) costs ¥7,000.
Currency Exchange, Tsūka Ryōgae, 通過両替Edit
Banks which change money usually display a sign outside by their door. At these banks you can also buy travelers' checks quite easily. Changing money or getting traveler's check in foreign currency outside Kanazawa can take up to three days. In this respect, banks here have not become internationalized yet.
Credit Cards, KUREJITTO KĀDO, クレジットカードEdit
Japanese banks require a guarantor before issuing a credit card to a foreigner. Host institutions have been known to act as guarantors for JETs. However, as this does involve some risk to the host institution, don't expect it. DC Credit Card company have issued Visa and Mastercards to JET Participants. Have your supervisor ring them up and request an application form for you (Osaka office Tel: 06-6532-3661) fill in the forms and wish for the best. They'll do their best to issue you with a card relatively quickly and painlessly.
At least two Ishikawa JETs have been successful with applications. A copy of your Alien Registration Card will be requested. There is a small annual fee (amount differs depending on which type of card you select). As for using the card, it is a different system to what we have back in our countries. You will usually pay for your monthly purchases by direct debit from your bank account in full. When you pay for an item using your card the clerk will ask you if you want your card debited once only. You can opt to split the payment over two or maybe three months in equal amounts.
The final alternative is to pay using "revolving payment". It's about the most complicated thing you will ever come face to face with. You pay 10% of the total amount of the product per month until you have paid half of the total cost after which you pay 5% plus interest until the total is paid. You can alternatively choose to pay off more money by depositing at an ATM. The system is very different but the benefit is that you don't have to send money home to pay off the card each month, your card never gets refused AND you can draw money from the card both abroad AND at most ATM machines in Japan.
Post OfficeEdit
For information in English on services offered by the post office, the International Postal Research Center has recently published an excellent booklet (titled "Post Office Guide") on this topic. You can pick up a copy at any general post office. For further information in English, call the Research Center locally at (0762)62-2325; or (03)5472-5851.

Post office banking has all the advantages of a bank plus slightly better interest rates, branches all over the country and slightly longer hours. An ordinary deposit account (tsūjō chokin, 通常貯金) is the most commonly used account. Depositors can deposit or withdraw any amount (minimum ¥10) at any post office. If depositors use a Sogo (integrated) account passbook (sōgō tsūchō, 総合通帳), they can take advantage of all on-line services.
Postal AccountEdit
Opening an account (Ordinary Deposit)
Opening an account is fairly straight-forward. Anyone can open a postal deposit account. Take the money to be deposited (more than ¥10) and your hanko (although a signature is also acceptable) to a post office during business hours, and you can open an account immediately. A cash card for use at ATMs is available on request. A card and passbook will be sent to you within a week by registered mail.
Take the passbook, your card and your seal to the post office and the account can be closed immediately.
When a passbook or the card is lost or stolen, please inform the post office and your local police station. A passbook or cash card will be reissued if you make a request in writing. You must fill in the reissue request form for a passbook, etc. Information required is the account number of the lost or stolen passbook or cash card and your name and address. You must also imprint on the form the seal that you used to open the account.
Sending and Transferring Money via the Post OfficeEdit
Money Transfers (Domestic)
You can set up automatic or on request transfers from a post office account just as you can from a bank account. You can also transfer money through the post office without an account by using an automatic debit transfer (Jidō haraikomi, 自動払込). Public utility charges can be automatically transferred from an ordinary deposit account to a payee's postal giro account.
Domestic Postal Giro, Yūbin Furikae, 郵便振替
You can also use domestic postal giro to make payments. This system is utilized to make remittances or payments when the remitter and the payee both have giro accounts or when either of them has a giro account. There are three methods, in-payments (haraikomi, 払込), out-payments (haraidashi, 払い出し) and giro transfers (furikae, 振替), each of which can be processed by mail or by telegraph. International remittances can only be sent from main post offices.
- In-payments : made by those who do not have an account to those who have one. Giro transfers are used where both parties have accounts. In this case remittance is by automatic transfer.
- Out-payments: used by account holders to withdraw funds from their accounts to remit to payees who do not have accounts. Accounts you can transfer to are listed in a guide available from the Post Office. For more details, call the information line on 03-5472-5851.
In addition there is also a system of Domestic postal money orders. There are three types of money order: ordinary money orders (futsū kawase, 普通 為替), telegraphic money orders (denshin kawase, 電信為替) and postal orders (tēgaku kogawase, 定額小為替).
Domestic Cash Registration Envelope, Genkin Kakitome Fūtō, 現金書留封筒
One of the most popular methods for sending money domestically is the cash registration envelope. This is an envelope available from the post office for ¥20 and is especially designed for sending cash. The envelope is sent to the recipient as registered mail, with postal charge starting at ¥420.
Sending Money HomeEdit
Usually the currency sent is the one used in the country of destination. The remittance, which is paid in Japanese yen, is calculated in the foreign currency based on the exchange rate on the remittance date. The payee will receive the remittance amount in the currency of his or her country.
Time and CostEdit
To Australia and Canada it takes about three weeks. To the U.S.A., Europe and the U.K. it takes only six to ten days. The service charges are ¥2500 per remittance and ¥2000 per money order. However, larger amounts of money (>¥500,000) may require an additional charge. In addition, the bank in your country may charge a receiving fee for remittances.
International Postal Remittances, KOKUSAI SŌKIN, 国際送金Edit
Money orders can be air mailed by the post office to the payee's address. Remittances along with short messages can be made to most countries. These services are only available from post offices which provide delivery services. In Kanazawa, this includes the Kanazawa Chuo (Central) Post Office (金沢中央郵便局) and Kanazawa Minami (South) Post Office (金沢南郵便局).
International Debit Card (A JET's Advice)Edit
Probably the best and cheapest way to send money home. Open a Postal Savings account and get a VISA or MC debit/credit card (must apply for this after they've issued you a Post Office ATM card). Request that 2 cards be sent to you and send one home to someone you trust (unscrupulous family members are probably not a good idea). This person can then withdraw money from your account via ATM and it costs about ¥300 each time. Not only is this method cheap but you receive really good exchange rates.
International Giro TransferEdit
You can use giro transfer from your giro Account to the payees account. Handling charges are fixed at \400 regardless of the amount, however this service is available to a limited number of countries. For countries participating on the JET Programme, this service is available to the U.K, Germany, Spain and France. Highly recommended for British and European JETs.
You need a giro account in your own country, someone can open one for you. It takes about 5-7 days for the money to arrive. Ask for a furikae koza at the post office. Please note that Lloyds Bank in Tokyo offers an international transfer service using a furikomi card for ¥2,000 per transaction (beware of extra charges that are sometimes levied by YOUR bank at home and Lloyds bank in the country that the money is sent). They can have money transferred in a day, and have a pretty good exchange rate. For more details call 03-3589-7745 or fax 03-3589-7722.
Kyashu Kado, キャ シュ・カードEdit
These are usually automatically issued when you open a new account at a bank or post office. They can be used at any of the ATMs of your bank usually for free of charge between 09:00 to 18:00 on weekdays and on Saturday mornings at more conservative branches, while many are open from 9:00 - 19:00 and a very limited number from 7:00 - 21:00. The ATM card can also be used in other bank's machines in Japan for a small service fee (¥100~¥300).
Japanese banking institutions have not entered the age of 24-hour banking. Many banks open at 09:00 and close at 15:00, with ATMs closing by 21:00pm on weekdays or 19:00pm on Saturdays, Sundays, public holidays and the New Year period. If an ATM is open outside these times, a service charge of ¥100~¥300 per transaction may be charged.
You can do many different types of transactions with the ATMs. Even with limited Japanese ability, you should be able to deposit and withdraw money, and update your passbook.
Using an ATMEdit
Key ATM Commands in KanjiEdit
Withdrawal
引出し, hikidashi
Deposit
入金, nyūkin
預金, yōkin
預入れ, azukeire
Passbook Update
通帳記入, tsuchō-kinyū
Balance Update
残高照会, zandaka-shōkai
Debit Transfer
振込み, furikomi
Note: For a debit transfer, you'll either need a special debit card from the bank for the account that you want to deposit money to or the account number itself
Confirm Transaction
確認, kakunin
Usually green button
Cancel Transaction
取消, torikeshi
Usually red button
Correction
訂正, tēsē
Usually yellow button
10,000 ~ 万, man
(i.e., 1万 = 10,000)
1,000 ~千, sen/zen
(i.e., 1千 = 1,000)
Yen (¥) ~ 円, en/yen
How to Withdraw MoneyEdit
Procedure may differ slightly at your ATM.
1. Press the withdrawal (hikidashi, 引き出し) button.
2. Insert ATM card and, if you wish, your passbook into appropriate slots.
3. Press your 4-digit entry code. You may have to press confirm button afterwards.
4. Let's say you want to withdrawal ¥52,000 (52万円). Press 5-2-0-0-0-(円) or 5-(万)-2-(千)-(円). Press confirm (kakunin, 確認), cancel (torikeshi, 取り消し) or correction (tēsē, 訂正) button as appropriate.
5. Take out the card, money, transaction sheet and, if applicable, passbook.
Note: For some ATMs, the machine will be automatically set to withdrawal function if you insert your ATM Card without selecting the type of transaction you desire first.
How to Deposit MoneyEdit
1. Press the deposit button.
2. Insert the ATM card and if you wish, your passbook. You may or may not have to punch in your 4-digit entry code.
3. Put the money into the appropriate slot (the machine will indicate which one). Make sure that the bills' edges are not folded up.
4. Once the machine counts the money, it will display the amount deposited. Press confirm, cancel or correction button afterwards.
5. Take out the card, transaction sheet and, if applicable, passbook.
How to Update PassbookEdit
1. Press the passbook update button.
2. Insert the passbook. You may also have to insert your ATM card and punch in your 4-digit code.
Foreign Cash Card WithdrawalsEdit
There are many cases where non-Japanese (foreign) issued cards can't be used to withdraw cash in Kanazawa (Ishikawa's largest city) so it is best to either withdraw cash at your airport of arrival or to prepare traveler's checks. Note that, while payment of shopping can be made on a wide range of credit cards, on many occasions these same cards cannot be used to debit your account or as a cash card. Since the company that produces the cards differs from country to country it is not always the case you will be able to withdraw using your card.
Locations you may be able to use foreign-issued cash cards to get moneyEdit
Kanazawa (katamachi) Labro: ATM corner at the rear left of the 1st floor(withdraws possible at the JCB and UC ATMs, but dependant on the card) Kanazawa (katamachi) Daikwa: ATM corner on the 7th floor Post Offices: Post office ATM Bank ATM Credit company ATM Convenience Stores: Seven-Eleven ATMs accept most international cards. Foreign Cards: Visa International, Masters Card Intl, American Express, Diners Card. Associated card companies Ok At the ATM's of the same credit company as the card own Foreign debit cards: Cards from financial groups participating in Visa Electron & Maestro Electron NG
Making Cash Withdrawals at Post OfficesEdit
Basically, it is possible to withdraw cash from Post Office ATMs (you can withdraw, deposit and check funds also) with foreign issued bank cards which carry VISA, Mastercard, Diners, Amex logo. However, you will not be able to use you card if the machine does not carry the above marks. Though most Postal ATMs should be acceptable, we suggest using larger branches' ATMs, as there have been complications in the past with withdrawing money from smaller ones. Postal ATMs at the smaller branches will not process a foreign bank or credit card on holidays or after 4:00pm.
Metropolitan / regional bank ATM cash withdrawsEdit
There is the possibility that you may be able to withdraw funds with a credit card the bank is associated with. However, you will not be able to make withdraws with foreign issued debit or cash cards at metropolitan or regional banks.
Credit company ATM cash withdrawsEdit
Locations are limited, and you must have a PIN already installed for your card. Mastercard and debit cards sometimes don't work, so take care. The locations of credit companies ATMs where it may be possible to use your card are as follows:- LABRO: ATM corner at the rear left of the 1st floor(withdraws possible at the JCB and Uc ATMs, but dependant on the card)- DAIWA: ATM corner on the 7th floor(withdraws possible at the JCB ATM, but dependant on the card).
While Japan is a relatively safe country to live in, you should take care to keep your cash secure. Money has been stolen from a JET's apartment. Japan runs very much on a cash economy. People here think nothing about carrying \50,000 and it is not unusual to possess larger amounts of cash (for example, your monthly pay packet). Japanese people frequently have small safes within their homes but generally single people living in apartments do not. If you do keep cash in your apartment, make certain that no one knows where it is and do not let people know that you have it.
The following is taken from The JET Programme General Information Handbook, 2010:
What follows is accurate as of October 2009. CLAIR does not specialise in tax matters. CLAIR takes no responsibility for the accuracy of the information contained herein, nor accepts responsibility for any financial loss incurred or any legal action taken against anyone (whether or not they are associated with the JET Programme) as a result of information contained in or omitted from this article.

Personal Income Tax
Edit
Your tax status in Japan depends largely on your nationality, the length of your stay and your occupation in Japan. If you do not qualify for exemption from taxes in Japan, the terms and conditions of employment on the JET Programme allow for a gross salary to cover Japanese tax payments. It is important to note that first and second year ALTs from countries which have not concluded tax exemption treaties with Japan (i.e.: UK, Canada, Australia, New Zealand, Portugal, South Africa, Singapore, Turkey, Jamaica, Malaysia, Trinidad and Tobago, Slovenia, Barbados, St. Lucia, Kenya, Peru, Mongolia, Austria, Argentina, Ghana and Antigua Barbuda), all third year and above ALTs (with the
exception of third year Chinese ALTs), and all CIRs and SEAs of all nationalities are liable for tax in Japan.

If your gross income is more than ¥300,000 per month and no tax deductions are made, ask your supervisor to explain your pay slip to you. You might be expected to pay a lump sum directly to Japanese tax officials later in the year.

If paying tax in Japan, it is important to obtain a breakdown of such payments (Statement of Earnings) from your Contracting Organisation. This statement can take the form of either: a Gensen choshu ni kakaru shotokuzei no nozei shomei negai or a Kyuryo shotoku no gensen choshu hyo. If your visa type and nationality exempts you from paying Japanese taxes, the statement may also take the form of a Kyuyo shiharai hokokusho. Tax matters in Japan require very little paperwork. If exempted from paying tax in Japan, you have to file a form that confirms exemption, and you may be required to fill out a questionnaire for your local tax office. You should also be sure to keep your Gensen choshu hyo or Statement of Earnings (a small slip of paper which will appear in your December pay packet; see example in the appendix). JET participants who have to file tax returns in their home country need this, as do all reappointed JET participants who apply for an extension on their visa. You will receive this slip of paper from your Contracting Organisation around the beginning or end of a calendar year (December or January). The Gensen choshu hyo details your income, tax you pay and how much you contribute to Social Insurance and Pension.

First year JET participants probably will receive a statement only for income earned from August to December. However some Contracting Organisations treat the JET participants income according to the JET year (from August to July the following year) and aim to prepare the Gensen choshu hyo at the end of the JET year in June or July.
If you need the Gensen choshu hyo early for some reason or your Contracting Organisation cannot prepare it formally, then ask for the same information written and stamped with your Contracting Organisation's official seal.

The Tax Exemption Form
Edit
Those eligible for tax exemption in Japan according to the information in the previous section, should make sure they fill out forms for tax exemption (examples in the appendix). Your Supervisor will present you with these forms for signing shortly after you arrive. If you know that you should not sign these forms, please compare any forms that your Supervisor gives you with the ones in the
example. If they are the same, do not sign them, but refer your Supervisor to the Contracting Organisation Manual (Ninyo dantai-yo Manyuaru), your Prefectural International Affairs Division or CLAIR. Tax exemption forms are produced by the Ministry of Finance. Some forms may have both English and Japanese (front and back) and some forms may have only Japanese. Both forms are valid, however some forms may follow a slightly different layout. If you are unsure about your tax related form, compare it to the example forms provided. If they are the same, the English translation should be as in the example.
Note: Those who are exempt from income tax in Japan are exempt for two years only. From their third year, all JET participants are required to pay tax in Japan.(except China)
For U.S. JET participants (ALTs), in order to be exempt from paying Japanese tax, Form 6166 (issued by the IRS) certification of U.S. residency for the year before joining JET must be submitted together with the Tax Exemption Form. Please see the JET Programme website (www.jetprogramme.org/e/current/taxes.html) and the IRS website (www.irs.gov) for information on how to acquire Form 6166. The application for Form 6166 is called Form 8802. U.S. ALTs must make every effort to acquire Form 6166 before coming to Japan. The IRS charges a $35 user fee to apply for Form 6166, which will be borne by the JET participant applying for the form.
Local Inhabitants TaxEdit
JET participants who are liable for income taxes will likely be liable for inhabitant taxes also. Inhabitant taxes are calculated based on the previous year's income in Japan. The inhabitant tax bill is delivered around June for your previous January to December's income. However, even when you are liable for taxes your first year (as are CIRs and SEAs), inhabitant taxes are generally not required in the calendar year in which you arrive. So, if you arrived in July 2012, you will have inhabitant taxes due in 2013.
It is very important to confirm whether you will be liable for inhabitant taxes and make sure you have enough set aside for to pay them off, and it can come to over¥180,000. It is possible to pay it off in one lump sum, or in quarterly installments at your local bank branch. If you are unsre of what to do with your statement once it arrives, please check with your contracting organisation.

Home Country Tax LiabilitiesEdit
Information contained in this section refers to your JET earnings. Other income is treated according to the laws of your home country. Tax liability for your Japanese income is determined by the tax treaty between Japan and your home country. Below are some notes which might help you sort out whether you are likely to owe anything and if so to whom. Major international accounting firms do have offices in Tokyo, but charge hefty fees for consultation; life will be a lot easier if you sort things out before you come to Japan.

Please note that in most cases, your home country Embassies and Consular sections are not tax experts and it is your responsibility to seek information about home country tax obligations.
AustraliaEdit
The Australian Embassy in Tokyo provides the following information. In line with embassy directions, you should contact the tax department in your home state for further details. Tax office information can be found at: www.Australia.or.jp/en/consular/tax. Further information may also be obtained from the Australian Tax Office at: www.ato.gov.au
Embassy staff are not qualified on tax matters. Australian citizens resident in Japan are strongly advised to ensure they make appropriate taxation arrangements. Australia and Japan have a Dual Taxation Agreement. The Australian Taxation Office (ATO) considers all Australian JET participants to be residents of Australia for Australian income tax purposes whilst on the JET Programme.
In the past, it has been stated that all Australian JET participants that pay tax in Japan will receive a higher salary to cover the Japanese income tax payments, making your net remuneration the same as that of other participants. Australian JET participants who pay Japanese tax on their JET earnings will be exempt from Australian income tax on that income provided they have been engaged on the Programme for a period of not less than 90 days. Please contact the Australian Tax Office for clarification on this matter.

Australian participants are required to submit a tax return to the ATO by October 31 each year. Documentary evidence of the amount of Japanese tax paid should be retained. If you are unclear about your tax liabilities, you are strongly advised to contact the ATO at the branch office at which you lodged your last income tax return.
Generally speaking, income taxes in Canada are imposed on the basis of residency status as well as the source of income. Factual residents and deemed residents of Canada are subject to income tax on their world income. Non-residents of Canada are subject to income tax in Canada only on their Canadian income source. JET Programme participants employed by a local authority in Japan are considered factual residents of Canada and are required to report their world income by April 30, including income from the JET Programme on their Canada income tax returns. However, such participants are exempt from Canadian income tax on their employment income earned under the JET Programme in accordance with Article 18 of the Canada-Japan Tax Treaty. Income earned under the JET Programme is reported at line 104 of the general T1 return and a corresponding deduction claimed at line 256 (line numbers may be subject to change). In order to be eligible for the specific provisions, you must attach a letter to your tax return indicating that this income was received on the JET Programme as well as the Japanese Gensen choshu hyo (Statement of Earnings). This is similar to the Canadian T4 form, which shows income earned and income tax paid in Japan. Canadian JET Programme participants are liable for Japanese income tax and will receive an adjusted gross salary to compensate for this
taxation by their Contracting Organisation. Canadian taxation information and forms can be accessed electronically by visiting the Canada Revenue Agency website at: http://www.cra-arc.gc.ca/tx/nnrsdnts/menu-eng.html
Depending on the province in which you lived before coming to Japan you may be required to declare in China your monthly earnings in Japan. Be sure to confirm this with your place of work in China and the provincial tax office before coming to Japan. First, second and third-year ALTs will be exempt from income and local inhabitants' tax in Japan, but CIRs and SEAs will be liable (gross salary will be adjusted to compensate for the tax payment).
Based on a tax convention signed between Japan and France in 1995, French ALTs are exempt from paying tax in Japan for the first two years of their tenure on the Programme. They must, however, pay for the income tax in France, as stipulated in the article 21 of the convention: Une personne physique qui séjourne dans un Etat contractant pendant une période ne dépassant pas deux ans afin d'enseigner ou d'effectuer des travaux de recherche dans une université, un lycée, une école ou un autre établissement d'enseignement officiellement reconnu situé dans cet Etat et qui est, ou était immédiatement avant ce séjour, un résident de l'autre Etat contractant n'est imposable que dans cet autre Etat sur les rémunérations qui proviennent de cet enseignement ou de ces travaux de recherche et à raison desquelles il est soumis à l'impôt dans cet autre Etat. ALTs are exempt from tax in France from their third year, but have to pay them in Japan. CIRs and SEAs have to pay tax in Japan, but not in France, regardless of the number of years they spend on the Programme.
For more information about taxes or on the convention, please contact l'Inspection des Impôts before coming to Japan, or visit the website www.impots.gouv.fr > documentation >international > conventions.
A German participant's tax liability in Germany is affected by whether or not they maintain a permanent place of residence there. If the JET maintains a permanent place of residence, they will be liable for German tax. If not, they may be exempt from home country taxes. All German CIRs and SEAs are liable for paying income taxes in Japan, while ALTs are not. The amount of income tax paid in Japan can be used to offset and reduce home country tax liabilities. For more detailed information or other questions about specific procedures, please contact the tax authorities in Germany.
Irish ALTs who have been in Japan for less than two years must pay taxes in Ireland but are exempt from Japanese income tax. For all CIRs, SEAs and ALTs in Japan for 3 years or more, there is no tax liability in the home country, but they are required to pay income taxes in Japan. For more detailed information, please refer to the Irish Revenue homepage at: www.revenue.ie (Particularly:www.revenue.ie/services/tax_info/dtas/japan.htm
Participants who have been on the JET Programme for less than one year will be regarded as residents of Korea but may be exempted from Korean income tax upon declaration of tax deducted at source in Japan to their tax office in Korea. Participants in their second or third years on the Programme will be exempt from ncome tax in Korea. CIRs, SEAs and third year and above ALTs will be liable for income and local inhabitants tax in Japan (gross salary will be adjusted to compensate for the tax payment). First and second year ALTs are exempt. For more information, visit the Korean National Tax Service homepage: www.nts.go.kr
New Zealand
Edit
If you are a New Zealand JET participant you may become a non-resident for tax purposes if you are absent from New Zealand for more than 325 days in a 12 month period and you do not have an enduring relationship with New Zealand, and thus will not be liable for New Zealand income taxes (gross salary will be adjusted to compensate for the tax payment).
If you have any questions, including the interpretation of permanent place of abode, you are strongly advised to contact Inland Revenue. Please refer to the Inland Revenue website: www.ird.govt.nz
South Africa
Edit
South African JET participants pay tax in Japan (gross salary will be adjusted to compensate for the tax payment) but are exempt from South African tax. South African JET participants should obtain a record of the amount of tax paid in Japan for tax and currency control purposes. For further information contact the South African Revenue Service at: www.sars.gov.za
United Kingdom
Edit
Liability to UK or Japanese income tax depends on the length of visit and timing of your stay in Japan. Under domestic rules, both Japan and the UK may be able to charge income tax on your earnings. UK JET participants pay tax in Japan. Earnings from employment rendered to either central or local government will be liable to income tax in Japan. To prevent double taxation arising, the UK will give credit relief against Japanese tax paid by UK nationals and individuals who are ordinarily resident in the UK. Evidence of tax paid in Japan should be retained to support claims to relief from UK taxes if necessary. Because the end of the UK fiscal year differs from the end of the Japanese tax year, CLAIR recommends that UK JET participants keep all pay-related related documents.
One Year PlacementsEdit
JET participants whose stay in Japan is for one year only are likely to remain resident and ordinarily resident in the UK for tax purposes. (For example, you left the UK on 24 July 2010 and return on 1 August 2011 - you will be treated as resident for the tax years 2010/2011 and 2011/2012.)

Returning JET participants who are still residents of the UK will be liable for tax on their income or gains earned from sources in Japan, but will be given credit for taxes paid on those sources in accordance with the terms of the UK-Japan Tax Treaty. The credit will only apply toward the UK taxes calculated on the source of income for which Japanese taxes were paid (i.e. the credit does not carry over to taxes calculated on income in the UK before the JET participant came to Japan). The amount of the tax credit will be the lesser of the Japanese and UK taxes attributable to that income, so if the UK liability exceeds what was paid in Japan, the JET
participant will have to pay the difference in the UK. Likewise, refunds will not be issued if the taxes in Japan exceed UK liability.

You will need to declare your income earned in Japan on your return to the UK.
Residents of Other TerritoriesEdit
Residents of the Channel Islands and so on should check with the relevant authorities before you leave. You are not covered by Japan-UK Tax Treaties and will probably need to pay Japanese income tax.
For your referenceEdit
Liability for UK tax is determined by your resident status for a given tax year. Residence is defined as follows: you will always be resident if you are in the UK for 183 days or more in a tax year. There are no exceptions to this. A count is made of the total number of days spent in the UK - whether you come and go several times during the year or if you are in the UK for one stay of 183 days or more.

If you work abroad full-time, you are treated as not resident if you meet all the following conditions:
Your absence from the UK and your work abroad both last for at least a whole tax year
Any visits you make to the UK:

- Total less than 183 days in any one tax year, and
- Average less than 91 days a tax year (the average is taken over the period of absence up to a maximum of four years; any days spent in the UK because of exceptional circumstances beyond your control, for example the illness of yourself or a member of your immediate family, are not normally counted for this purpose)

If you meet all of the above conditions, you are treated as not resident in the UK from the day after you leave the UK to the day before you return to the UK at the end of your work abroad.
For more information on UK income tax liability, contact your local UK tax office. To find the tax office nearest you, call the HM Revenue and Customs inquiry line at +44-207-438-6420. Alternatively, call the HM Revenue and Customs Residency at +44-151-210-2222. HM Revenue and Customs homepage can be found at: www.hmre.gov.uk/index.html
Please check tax information before you leave the UK and preferably inform the HM Revenue and Customs (also ask for form P85 and leaflet IR138).
United States of America
Edit
All US JET participants must file US Federal Income tax returns.

The following forms are necessary for US JET participants when filing their tax returns:
Form 1040…US Individual Income Tax Return
Form 2555 (EZ)…Foreign Earned Income Exclusion

Form 4868…Application for Automatic Extension of Time to File US Individual Income Tax Return

Form 2350…Application for Extension of Time to File

If you filed last year with a Japanese address, you will be sent the following year's tax forms automatically.

All others MUST REQUEST the standard overseas filing package (the 1040-7 package) from the IRS Forms Distribution Center, P.O. Box 25866, Richmond, Virginia, 23260 USA. This package provides the forms most JET participants will need to file their taxes from overseas. Forms and instructions can also be downloaded from the IRS homepage: www.irs.gov
You must report all your 2009 income, both from Japanese and US sources. You may be able to exclude all of your Japanese income (up to US $80,000) so you should only have to pay tax on the income from US sources. Important: You must file a tax return in order to claim the $80,000 foreign earned income exclusion. It is not automatic. Failure to file a return could result in a loss of the exclusion and an individual may be subject to taxes, interest and penalties on the entire amount of their income.
Deadlines
Edit
Most US taxpayers must file their tax returns by April 15, but taxpayers who are living abroad on April 15 receive an automatic two-month extension and need not file until June 15. To make use of the automatic extension, attach a statement to your return stating that you were living outside the US on April 15. If you owe taxes however, this payment must be made by the April 15 deadline. If the payment is late, you must pay interest on the amount due as well as a late payment penalty.

Form 1040 is the US Individual Income Tax Return form and Form 2555-EZ is the form for Foreign Earned Income Exclusion that you will need to file. Do not file your Forms 1040 and 2555-EZ until you have been in Japan for 12 months and have met the 330 day requirement for the Physical Presence Test. If you need an additional extension, as almost all first year JET participants will in order to qualify for the foreign earned income exclusion, you should file Form 4868 which will give you an automatic additional two-month extension which should allow you to meet the 330 day Physical Presence requirement for the foreign earned income exclusion. If you still need more time, you will need to file Form 2350 listing a specific reason for applying for this extension
Necessary Forms
Edit
First year JET participants must send in a Change of Address Form 8822 to report their Japanese address to the IRS.

You must fill out the long Form 1040. If you claim the foreign earned income exclusion, you cannot use Forms 1040EZ or 1040A. Form 1040 is included in the 1040-7 package which you should get from the IRS.

You must report all your Japanese income on Form 1040. You may file Form 2555 or Form 2555EZ along with Form 1040 if you qualify for the foreign earned income exclusion. Form 2555 and Form 255EZ will be included in the same overseas filing package.

If you had over $10,000 in any foreign bank accounts at anytime during 2009, you must declare these accounts to the Department of Treasury (not the IRS) using Form TDF 90-22.1, available in the overseas filing package.

If you have not been able to obtain a W-2 Form (Wage and Tax Statement) from your previous USemployer, file Form 4852 as a substitute for the W-2. Make sure you try to get your regular W-2 before using Form 4852.
Exclusion of Foreign Earned Income from Your Tax Return
Edit
As US taxpayers earning income abroad, you may qualify to exclude that income from your tax return up to $80,000 provided you meet the foreign tax home test and the physical presence test by maintaining your tax home overseas and being physically present in a foreign country or countries for at least 330 full days during any period of 12 consecutive months. Remember, if you spend more than 35 days in the US, you may not be able to claim the income exclusion. Plan your trips home accordingly.
Hints on Filling Out Forms
Edit
Form 1040 (required)
・Fill in your current address in Japan, your social security number, and your occupation: ―English Teacher‖, ―Coordinator for International Relations‖ or ―Sports Exchange Advisor‖.
・Follow the instructions supplied for line-by-line proper completion of the Form 1040. Wages earned in Japan are reported on line 7. Your exclusion of Japanese income, from Form 2555 or 2555-EZ, will be entered as a negative amount on line 21.
・If your Japanese wages are less than $80,000 use Form 2555EZ instead of Form 2555. It is much shorter and easier to complete.
・If you claim the foreign earned income exclusion, you do not qualify to claim the ―earned income credit‖. Also, if all your overseas wages are excluded on Form 2555, you cannot make a contribution to an IRS account, deductible or otherwise.
・Send the ―Statement of Earnings‖ (Gensen choshu hyo) with Form 1040. You should have already received this income statement from your Japanese employer or city/prefectural tax office. By law, this statement needs to be translated into English, but it should be sufficient just to write ―gross income‖ beside the appropriate figure.
Form 2555-EZ
・You should use your local office or school address with your Supervisor/Head teacher's name.
・Your occupation is ―English Teacher‖, ―Coordinator for International Relations‖ or ―Sports Exchange
Advisor‖.
・In Part I you should complete items 2 and 3.
・Complete all the items in Parts II, III and IV. You will show your foreign wages on line 17 of Part IV. This amount should also be included in your total wages on Form 1040, line 7. All items must be reported in US dollars.
Form 4868 or Form 2350 (Extension of Time to File)
Most first year JET participants will need to file Form 4868 by June 15 in order to meet the 330 day requirement of the physical presence test. This allows you to defer filing your return until you qualify to claim the foreign earned income exclusion. If you arrived in Japan after August 15, you will need to file Form 2350, listing a specific reason for applying for the additional extension.

DO NOT FILE YOUR RETURN until you have met the requirements of the physical presence test. For first year American JET participants, that will be the end of June 2010 at the earliest. It is your responsibility to act and to file the proper forms on time with the IRS. Failure to file can have significant negative financial implications.