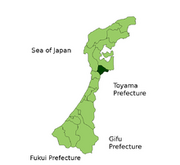 Nakanoto
(中能登町,) is a town located in Kashima District on the Noto penninsula.
It is one and a half hours from Kanazawa by train.
The town was founded on March 1, 2005 from the merger of three towns in the district: Kashima, Rokusei and Toriya.
As of April 1, 2005 population data, the town has an estimated population of 18,952. The total area is 89.36 km².
Nakanoto is famous for onigiri.
A famous person from Nakanoto is Haruka Eigen, the professional wrestler
Getting Around
Edit
Travel Agents
Edit
Museums and Culture
Edit
Amenomiya ancient tombs The Ancient Burial Mounds of Amenomiya are an officially designated Historic Site.
Notojyoufu museum.
Outdoor Activities
Edit
Mount Sekidou
Fudo falls
Eating and Drinking
Edit
Nakanoto Onigiri
Heiwado Shopping Centre
Entertainment
Edit
Medical Care
Edit
Groups and Clubs
Edit
Useful links
Edit