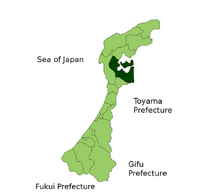 Nanao
(七尾市,
nanao-shi
?
) is a city located in the center of the Noto Peninsula (能登半島,
Noto-hantō
). It lies west of Toyama prefecture, south of Wajima, and north of Hakui. It is approximately 65km (one hour's drive) north of Kanazawa, the capital of Ishikawa.
Nanao is spread out over a large area, and Wakura Onsen (和倉温泉), Notojima (能登島), and Nakajima (中島) are technically within city limits. The dark green area in the map to the right shows the location of Nanao.
Nanao was once the economic, cultural, and political capital of Noto province, in what is today known as Ishikawa prefecture. It has a history dating back to 718, a today remains the largest city in the Noto Peninsula, with its nickname 'Little Tokyo'. Nanao also has the greatest concentration of JETs of any city north of Kanazawa.
The name "Nanao" (七尾) literally means "seven tails" and is said to be named for the seven mountain ridges (or "tails") surrounding Nanao that are visible when viewed from Joyama (七尾城山), site of the city's historical castle ruins.
The modern city of Nanao was established in 1939, and was expanded in 2004 to include several surrounding towns. It is the largest city north of Kanazawa by population and the fifth largest in Ishikawa. Nanao is known both in Ishikawa and Japan at large for it's festivals, most notably it's annual Seihakusai Festival.
Getting Around
Edit
The Noto Peninsula has its own small airport located north of Nanao, near Anamizu. Flights to/from Tokyo are offered twice daily. There is a taxi service from the airport to Nanao and Wakura. It takes about 1 hour and costs 1,300 yen, and must be booked in advance. For information telephone Nakajima Taxi at 0767-66-0114.
Nanao station shares lines with both JR Noto as well as the private Noto Railway. The JR Noto Line has local trains going between Nanao and Kanazawa or Komatsu roughly hourly. A one-way ticket from Nanao to Kanazawa costs 1,280 yen and takes about 80 minutes. The limited express trains from, Ueno (Tokyo), Osaka, Kyoto, and Nagoya make stops at Nanao on their way to the JR Noto Line terminus, Wakura Onsen.
The terminus of the private Noto Railway Line is Nanao, and it has trains going between there and north to Anamizu roughly hourly. A one-way trip from Nanao to Anamizu costs 880 yen and takes about 45 minutes.
Check Hyperdia for train times and prices. http://www.hyperdia.com/
While buses do go most everywhere around Nanao, they are slow and expensive. However, if you don't have a car it's better than nothing. Bus schedules can be found at Nanao and Wakura stations.
Travelling by car is the easiest way to navigate Nanao and its surrounding areas.
To access the Noto Satoyama Kaido (能登里山海道) from Nanao, turn west off of the #2 and follow the green signs indicating direction. They are posted in both Japanese and English. Nanao can be entered at any one of four road exits: Uwadana Yada (上棚矢駄), Nishiyama (西山), Tokuda Otsu (徳田大津), or Yokota (横田).
To enter/exit Nanao via other local roads:
The #159 and #2 roads head into Nanao from the south.
The #1 and #249 head south-east from Wakura and the upper Noto into Nanao.
The #160 heads into Nanao from the direction of Toyama.
There are always plenty of taxis available at Nanao station. Taxis tend to be expensive, but are a convenient way to move around the city if needed.
Museums and Culture
Edit
Nanao Art Museum
Nanao Art Museum is a great place to visit. Although it's a relatively small museum, many famous exhibitions have been displayed here. Exhibits change regularly, so there is always something new to see. The architecture of the building and its surroundings are very impressive. Additionally, the sourounding area is a great place to relax outdoors. Fisherman's Wharf
The Nanao Fisherman's Wharf is a great place to eat and shop. Situated on Nanao bay near the city center, it is home to several great restaurants and a lively fish market. Fish and Chips, a popular restaurant serving it's namesake and other seafood, is located here. 'Yama no tera'
Close to Nanao Art Museum there is the 'Yama no tera' temple zone. There are a number of temples which are easy to walk around. This temple zone is fairly well sign posted in English and Japanese.
Notojima (Noto Island)
Notojima is home to the Notojima Glass Museum. It has a number of permanent exhibits as well as regular new exhibits. Outside of the museum you are also able to see some glass sculptures. The building itself is very creative. Once on the island, the museum is well sign posted and relatively easy to find.
Close to the Notojima Glass Museum is Notojima Aquarium. The aquarium hosts a large range of creatures, including one of the largest fish in captivity worldwide (The Whale Shark). There are also regular dolphin and penguin shows. The staff here are very helpful. Tickets are about 1600 yen.
Outdoor Activities
Edit
There are a wide variety of outdoor parks and recreation areas in Nanao. Notable parks include Komaruyama park, which overlooks the downtown area and bay, and the Nanao activities park, which has a heavily developed outdoor activities area, outdoor exercise facilities and the biggest playground in the Noto.
Nanao has several mountain areas open to the public, some of which are drivable, others must be hiked. Noteworthy are the Nanao Castle ruins, and the lookout tower from the highest point in the city. These are free and can easily be accessed by car and on foot.
Notojima hosts several beaches and outdoor areas, including a particularly nice beach/onsen/soccer field area near Notojima Elementary school.
There are two public pools (with entry fee) in Nanao.
Eating and Drinking
Edit
Sanuki no Udon-shop Hatabou and CaféMoritat (Ishikawa JETs Blog post): http://ishikawajet.wordpress.com/2009/12/22/restaurant-review-sanuki-no-udon-ya-hatabou-and-cafe-moritat/
Patria is located in the center of Nanao and across from the station. It has a supermarket, several department stores, a small arcade, a florist, a cake and omiyage shop, a Mr. Donuts, a 100 yen shop, and ATMs for all major banks. Parking is free for up to 3 hours in the attached garage, or (if you can find space) across the street at Nanao station.
Nappy Mall is located on the #159, just south of the newly built road that connects to the #2. Here you can find a Dontaku supermarket, a book and games store, a large drug store, hair stylists, various restaurants, a 100 yen shop, and Yamaya. Apart from selling a large selection of alcohol (including imports), Yamaya is a great place to pick up foreign foods including tacos, curry, chips, dips, and so forth. Nappy Mall is open every day 9:30 - 19:00.
Asti (アスティ) is basically just a Dontaku and a Yamada Denki. However, it's worth mentioning that this particular Dontaku may have the best selection of foods of any grocery store in Nanao. And, the Yamada Denki is the only proper electronics store in central Nanao. Asti is located on the #2, about 500m south of the T intersection at Komaruyama park (小丸山公園), and almost next door to Uniqlo. Also in this area are Tsukiya (fast food Japanese style) and Autobachs, an autoparts store.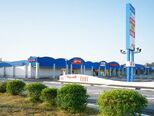 Bay Mall is a semi-new addition to the Nanao shopping scene. It has a Dontaku, Shimamura clothing shop, a great bakery, a Moss Burger, Coco's family restaurant, mobile phone shops, a gas station, and a decent drug store.

Kahma is a large home center with good selection and good prices. This is a great place to go for bedding, tables, shelves, household products, etc. It can be found just south of Komaruyama park (小丸山公園) at the corner of the intersection where the #2 and #249 branch off. On the #159 near Nappy Mall is Nafco. This is also a home center, which is similar in size to Kahma but carries a different selection of goods.

The international brand Uniqlo has a store in Nanao. It sells a wide range of clothing at reasonable prices, and is fairly up to date on trending fashion. They will tailor pants and some other clothing at the time of sale if you ask on site, which comes in handy when buying clothes as a foreigner. It is located on the #2, about 500m south of the T intersection at Komaruyama park (小丸山公園), and just south of Asti.
Entertainment
Edit
Medical Care
Edit
There are 3 main hospitals in Nanao city.
Keijyu General Hospital 恵寿総合病院
Edit
Keijyu is open 24 hours for emergencies.
Some of the doctors on staff also speak English.
Address: 94 Tomioka-machi Nanao city Ishikawa Prefecture 926-8605
tel: +81-767-52-3211,fax: +81-767-52-7483
e-mail to hospital: info@keiju.co.jp
Website (in Japanese): http://www.keiju.co.jp/ English: http://www.keiju.co.jp/data2/e-home.htm
Keijyu Family Clinic
Edit
Accross the road from the hospital you will find a clinic owned and run by Dr Yoshioka, a University of Michigan educated doctor who lived in the USA for 10 years, and has excellent English. The assisting doctor is also a fairly adept speaker of English (sufficient for almost any visit). Hours are weekdays 8:30 am to 12:30 pm , 1:30 pm to 5:15 pm, weekends and holidays closed. To make an appointment, call 0767-57-5500. If you don't speak Japanese they will likely have someone on hand who can speak English. Address is 12 Sakura-machi Nanao-shi, Ishikawa-ken 926-8607.
Website in Japanese: http://www.keiju.co.jp/family/kateiiryou_kensyuu/index.html English: http://www.keiju.co.jp/family/eng/index.html
Noto General Hospital 能登総合病院 
Edit
石川県七尾市藤橋町ア部6-4
Phone: 0767-52-6611
This is the largest hospital in the Noto area. As such, if you require specialized medicines or vaccinations, for example Hepatitis A and B inoculations, you will probably be directed here, as other smaller hospitals don't carry them.
The hospital can be found if you take the turn-off to the Kahma home center from the 2, and drive for about 500m up the hill.
Website (Japanese only) http://www.noto-hospital.nanao.ishikawa.jp/
Nanao Hospital 七尾病院
Edit
Reception hours 8:30am-4:00pm
Address: 石川県七尾市松百町八部3-1
Phone: 0767-53-1890
Website (Japanese only): http://www.nanao-hosp.jp/
Groups and Clubs
Edit
Useful links
Edit
Official website of Nanao (in Japanese): http://www.city.nanao.ishikawa.jp/
Nanao Wikitravel: http://wikitravel.org/en/Nanao_%28Japan%29
Nanao Wikipedia: http://en.wikipedia.org/wiki/Nanao,_Ishikawa