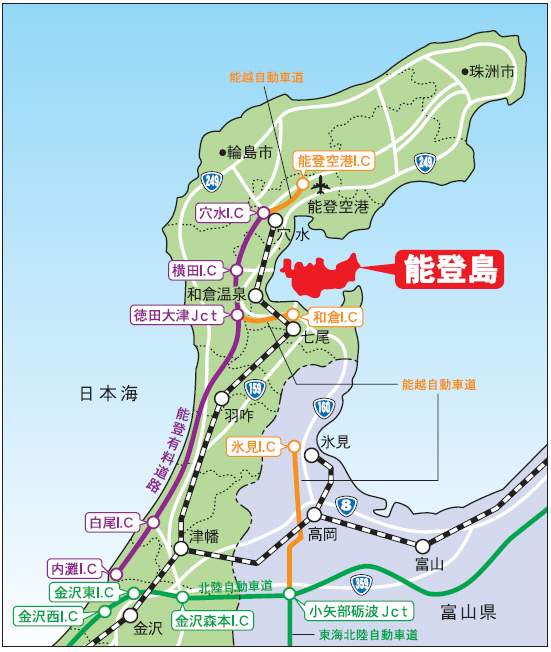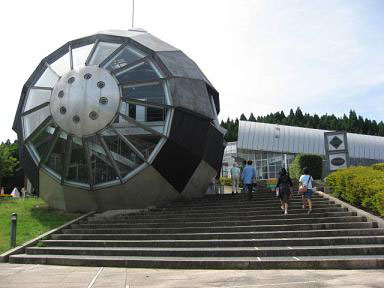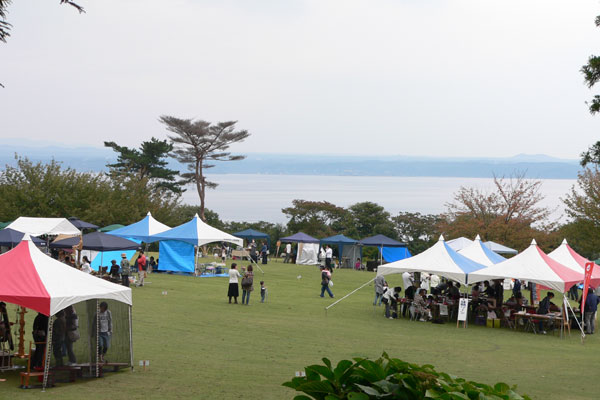 Noto-jima Island (能登島), 25 min. by bus from JR Wakura-
Onsen Sta. to Bijutsukan-mae bus stop. Noto-jima Island is located in Nanao Bay off the Noto Peninsula. Surrounded by the sea in all directions, it is a place of scenic beauty. Rich in the fruits of the mountains and ocean, it warmly greets visiting travelers.
There are many places and things to see on the island, including the Noto-jima Aquarium, Noto-jima Glass Museum,
Handicrafts markets, and the Noto-jima Koda Fire Festival (last Sat. in July), one of the three major fire festivals in Japan.
Notojima (能登島町, -machi?) was a town located in Kashima District, Ishikawa, Japan.
On October 1, 2004 Notojima, along with the towns of Tatsuruhama and Nakajima, all from Kashima District, was merged into the expanded city of Nanao and no longer exists as an independent municipality.
As of 2003, the town had an estimated population of 3,187 and a density of 68.13 persons per km². The total area was 46.78 km².
Notojima Aquarium
Edit
The Notojima Aquarium is a great day out for children and children at-heart!
Visitors can watch dolphin and seal shows, animal feeding and meet many species in the 'touch and feel' tank. The aquarium also has an excellent collection of jellyfish.
The aquarium is open from March 20 - November 30 9:00 to 17:00 and from December 1 to March 19 9:00 to 16:30.
Entry for adults = 1,320yen and children = 400yen
Aquarium homepage: http://www.notoaqua.jp/ (in Japanese) http://www.notoaqua.jp/english/index.html (in English) ]&nbsp
Notojima Glass Museum
Edit
This Museum is the only public specialized glass art museum in Japan.
The open space outside the Museum also has 14 glass sculptures.
The museum is open from Apr-Nov 9:00 - 17:00 and from Dec-Mar 9:00 - 16:30.
Entry for adults = 800 Entry for everyone below Junior High School age = free

Website (in Japanese): http://www.city.nanao.ishikawa.jp/glass/home.html
Blog post on Ishikawa JET Blog: http://ishikawajet.wordpress.com/2009/11/03/notojima-glass-museum/
Notojima Handicraft Fair (October)
Edit
Artists of all media and genres feature their work at numerous craft booths.
Crafts include pottery, woodwork, glassware, dyed fabrics, illustrations, cloth goods, and leather goods.
This is a great little festival to attend, especially if you're looking for some handmade omiyage or gifts for people back home.
The location is about five minutes from the Notojima Aquarium and ten minutes from the Notojima Glass Museum by car.
Blog post on Ishikawa JET Blog: http://ishikawajet.wordpress.com/2009/10/08/notojima-te-matsuri/
Transport
Edit
Take the JR Nanao Line and get off at Wakura Onsen.
Take Notojima local bus.
Buses depart from Wakura Onsen at: 7:43, 9:38, 10:48, 12:18, 14:28, 16:33, 17:28, 19:19 Takes 30 min
Car is by far the most convenient and easiest way to see/get around Notojima!