Noto (能登町,
Noto-chō
?
) is a
town
located in
Hōsu District
,
Ishikawa
,
Japan
.
Noto-cho incorporates everything between Suzu city and Anamizu-town along the East coast of the Noto peninsula.
Official Website (in Japanese): http://www.town.noto.ishikawa.jp/www/index.jsp
On March 1, 2005 the town of Noto, and the village of Yanagida, both formerly from Fugeshi District, merged with the town of Uchiura, formerly from Suzu District, to form the new town of Noto. Also as of this date, Fugeshi District merged with Suzu District to become the newly-created Hōsu District.
As of October 2004 population statistics, the town has an estimated population of 21,863 and a density of 80 persons per km². The total area is 273.45 km².
Getting Around
Edit
Noto Airport is within 20-45 minutes drive of most of the towns that make up Noto-cho.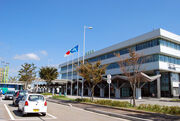 The airport has 2 ANA flights a day from Tokyo Haneda (morning and afternoon).
The flights are often discounted down to as low as 12,870 yen one-way if you reserve at least 28 days in advance, which is much cheaper than a train to Tokyo but not cheaper than a night bus (7,000 yen roundtrip from Nanao http://www.mktour.net/contents_highwaybus.html#plan6).
Save your roundtrip pink boarding slips to get a reimbursement from any Town Hall.
For flight information look here (English): http://www.ana.co.jp/asw/index.jsp?type=e
Unfortunately there is no longer a train line past Anamizu town (Noto Tetsudo line used to go as far north as Suzu but it was closed due to population decline in around 2003).
Buses are infrequent and inconvenient but they do exist. Timetable for buses from Anamizu to various stations in Noto-cho can be found here (in Japanese only): http://www.pref.ishikawa.jp/shink/daiya/kudarinoto220401.pdf . Buses from various stations in Noto cho to Anamizu town can be found here (Japanese only): http://www.pref.ishikawa.jp/shink/daiya/noborinoto220401.pdf
Most people/JETs in Noto-cho own/have access to a car as it is vital to be able to get around.
Noto Toll Road
As of July 2012, tolls are 830 yen one-way for yellow-plate cars and 1180 yen for white-plate vehicles going to Uchinada. http://www.ishi-douro.or.jp/a_05.html
Residents can buy discounted Noto Toll Road tickets at any Town Hall. The reduced ticket fares are 310 yen for yellow-plate cars and 460 yen for white-plate vechicles one-way going to Uchinada.
There are few/no taxis available around the area without a booking. There is however, the possibility of booking a taxi from the Ushitsu Taxi Company (phone: 0768-62-1231).
Travel Agents
Edit
There are no Travel Agents in Notocho. The closest are in Anamizu town and Suzu city.
Museums and Culture
Edit
Noto Planetarium (Mantenboshi 満天星)

Edit
Open 9:30-17:00 everyday except Thursday.
Address (copy and paste into Google Maps for map access): 石川県鳳珠郡能登町上町ロ1-1 〒928-0331  TEL 0768-76-0101  FAX 0768-76-0098.
Access by car or taxi only.
Planetarium is 500 yen.
Weekdays - April to November: 11:00, 15:00 | December to March: 13:00
Weekends/Holidays- 11:00, 13:00, 15:00
Star gazing starts from 20:00 from April to October and from 19:00 November to March. Cost is 300 yen per person.
始時間
20:00~ 
4月~10月
19:00~
11月~3月
料 金
大 人
300円
小 人
200円

Website (in Japanese): http://www.mantenboshi.jp/
Abare Matsuri (Fire and Violence Festival)

Edit
Every year on the first weekend of July, the town of Ushitsu comes alive with the 2-day Abare Matsuri or better known as the "Fire and Violence Festival."
Visitors can watch Kiriko (キリコ) and Mikoshi (みこし) being carried through the streets, eat delicious festival foods, hear Taiko drums and see many people dressed in their summer festival wear (ゆかた).
The Kirikos and Mikoshis are first blessed by priests and sake is poured over them, and into the mouths of the men who carry them. From this point onwards, sake flows freely all night long.
At the end of the night, the main Mikoshi is set alight and the 10-12 men carrying it are forced to get into the river to cool off. They then carry the Mikoshi around while the flames and debris fall on them. This is a display of strength and endurance.
Note: This festival is not recommended for children after sunset as large amounts of alcohol is consumed and the festival can become quite dangerous.
One person's photos of the 2009 festival: http://www.shishimai.net/photo/etc/2009.html Youtube clip of final event: http://www.youtube.com/watch?v=7q9fEFbuqr0&feature=related Youtube clip of the festival: http://www.youtube.com/watch?v=KwYZJXfVWr8&feature=related
Ishikawa JET Blog post: http://ishikawajet.wordpress.com/2010/06/18/noto-abare-matsuri/
Outdoor Activities
Edit
Strawberry and Blueberry picking

Edit
Various farms in Matsunami and Yanagida towns in central Noto cho have Strawberry and Blueberry picking events. Most of these places charge 1500 yen for you to pick as many as you can possible fit into the provided containers.
There is also a Strawberry festival in Matsunami every May/June.
Yanagida Botanical Gardens 柳田村植物公園

Edit
Great for picnics and outdoor sports etc, Yanagida Botanical Gardens has wide open spaces as well as areas for cherry blossoms etc. It is a great place for people to enjoy the outdoors. The park is open everyday is except Thursdays and opens from 09:00-17:00 (entrance is free). Address (copy and paste into Google Maps for accurate location): 鳳珠郡能登町字上町口部1-1 TEL0768-76-1680. There are signs from the 249 heading north out of Anamizu.
Eating and Drinking
Edit
Flatts Bakery and Restaurant (and Inn)

Edit
One of the most popular places for JETs in the Oku Noto to gather is Flatt's Bakery by the Sea (located along the 249 near Ushitsu town). Owned and operated by Ben Flatt and his wife, the bakery is open Friday to Tuesday 09:00-19:00 and serves coffee, hot/iced cocoa, cakes and lunch meals (BLTs, pizzas etc) between 11:00-15:00. Phone: (0768) 62 1550.
The restaurant part of the building serves fine-dining, very high-quality meals in a traditional tatami-mat setting. Ben is a fantastic chef who creates masterpieces using a combination of fresh, local ingredients and tradional Italian cuisine. Bookings are essential as they are booked out very early. Telephone 0768 621900.
Flatt's also has a small Inn for traveller's to the area to stay in (it is usually booked out well in advance of any big events in town as well). Rates start from 8500 yen per person (including breakfast and dinner) and bookings are essential. Telephone 0768 621900.
Website (in English): http://www.flatts.jp/english.html
Nihonkai Club (日本海倶楽部)
Edit
Another popular gathering place for JETs and locals alike is Nihonkai Club. The restaurant is famous for it's Czech owner's home-made beer and delicious steaks (they also have an Emu and pig livestock area outside, we well as some kids play areas and a large slide).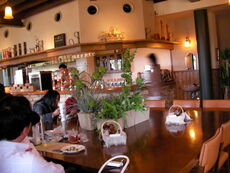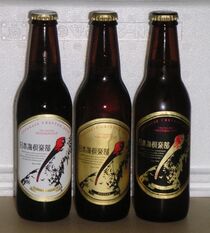 The restaurant caters for functions or small dinners and offers an ever-popular 2800 yen all-you-can-drink, all-you-can-eat for groups (including steaks, pizzas, chips, salads and many types of beer)
Nihonkai club is incredibly difficult to find. Take the 249 road into Matsunami town where it becomes the 35 road. Follow this until you take a left turn into Nihonkai club carpark. Alternatively, just follow the bright yellow Heron (bird with long beak) signs north/west of Anamizu or south/west of Suzu until you reach it. There is a fair amount of parking on-site.
ALP in Ushitsu town is the largest shopping centre in Noto cho. It has a Dontaku supermarket, book shop, ice cream shop etc.
Kuraya, near ALP, is a small discount clothing store that also sells bedding.
There are a few convenience stores but you will need a car to access them.
Entertainment
Edit
Matsunami Karaoke (in converted shipping containers).
Located along the 249 in Matsunami, this is a fantastic place for groups to do karaoke. Converted shipping containers have been revamped to include sofas etc and offer all the conveniences of Karaoke places (food and drink orders, English songs and books etc).
Karaoke costs around 1000 yen per person per hour, so it is quite expensive but worthwhile for a night out! The reception office will collect 1 set of car keys from the group as security and then tell you which number container you will be singing in. Most rooms will easily fit 5-10 people but the largest room (number 1?) can fit up to 20 if needed!
Medical Care
Edit
There is a full list of medical facilities, locations and contact numbers (in Japanese) here: http://byoinnavi.jp/ishikawa/hosugun'notocho
Ushitsu General Public Hospital
Edit
Address: 石川県鳳珠郡能登町宇出津タ97
Phone: 0768-62-1311
Operating hours: Monday to Saturday 8:30-12:00 (outside of these hours patients may need to attend Suzu/Anamizu/Wajima General Hospital)
Departments: Internal medicine, psychiatry, Gastroenterology, Cardiology, pediatrics, surgery, orthopedics, neurosurgery, dermatology, urology, gynecology, ophthalmology, ENT, Radiology, Rehabilitation.
Matsunami General Hospital
Edit
Address: 石川県鳳珠郡能登町字松波10-99-1
Phone: 0768-72-1151
Operating hours: Monday - Wednesday 9:00-12:00,Friday and Saturday 15:30-17:00 (outside of these hours patients may need to attend Suzu/Anamizu/Wajima General Hospital)
Departments: Internal Medicine, Cardiology, orthopedics, ophthalmology
City Services
Edit
Garbage and Recycling
Edit
Pick-up schedules vary, but if you lose your calendar check the website (Japanese only): http://www.town.noto.lg.jp/www/stage/result.jsp?genre_id=90
Groups and Clubs
Edit
Useful links
Edit